Earlier today (9th March 2020), Lu Weibing, Xiaomi Vice President/Redmi General Manager, announced a notable breakthrough that the company's research and development team had achieved. The Chinese tech giant has managed to include an in display fingerprint scanner right under an LCD screen. Currently, this technology is only available in OLED displays so this news arrives as a notable advancement in this field.
Ever since the displays on the front of the smartphone grew while the bezels diminished, manufacturers had to work on innovative ways to still provide the crucial fingerprint scanner biometric security feature. Some included it in the sides while a majority took to the rear. Apple, on the other hand, went full speed ahead with facial recognition, but the Android industry had already moved on to under screen display at this point.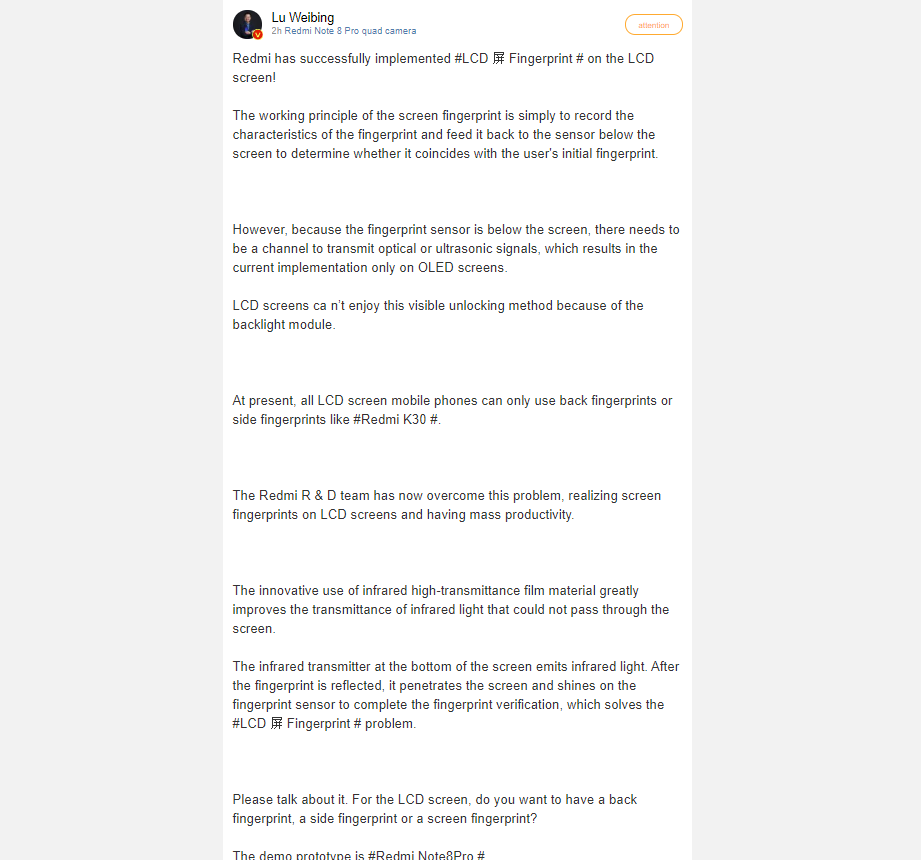 Smartphones now arrived with fingerprint scanners right under the OLED panels. So, a large shift was seen in the display market with LED manufacturing pioneers like LG and Samsung seeing sizeable growth in customers while selling their LCD businesses entirely. This even led to a fall in the LCD industry. But now, the inclusion of the fingerprint scanner under an LCD screen implies that budget smartphones might now even be able to feature this technology as well.
Back in 2018, one of the biggest trends at the time was the in display fingerprint scanner, which is still a common feature in the most upper mid range and flagship smartphones. Unfortunately, due to the thin nature of the OLED panels which allowed for better light transmission, the LCD screen was overlooked in most regards. But today, the Redmi senior executive has announced the inclusion of the under screen fingerprint scanners on LCDs.
According to the Weibo post, the company achieved this by using infrared through high transmittance film materials. This greatly improved the permeation of light and allowed it to pass through the screen, allowing the fingerprint sensor to read one's fingers. Previously, BOE had announced that it had achieved the same feat, but it is unknown if the brand also had a hand in Redmi's success as well.
The implications of this are huge as the LCD screen market might see a notable rise in the upcoming months or by next year. The lower mid range bracket to even budget smartphone might finally see the technology in its price ranges as well. Redmi even shared a video showcasing the technology in real life use, so you can check that out above.